Who's Who
AMAC Announces Update to Publication of Who's Who in Social Security
February 17, 2020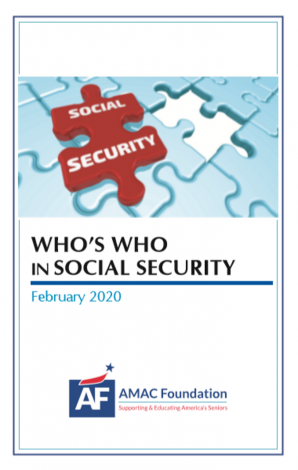 Note: This version was current as of February, 2020. The content is scheduled for update in conjunction with the convening of the 118th Congress in January of 2023.
AMAC has long been in the forefront of the quest to resolve Social Security's solvency dilemma, and has been actively advocating for a sensible solution to preserve this vital program for future generations. This advocacy has included scores of visits to Congressional offices drawing attention to the issue and presenting a framework for a workable resolution—the AMAC Social Solution Guarantee. These Congressional visits have cemented AMAC's position as a viable source of assistance in this mission, and have given our members a voice in the future of Social Security.
In anticipation of increased attention to Social Security's problems during the 2020 Presidential Election Campaign, officials and their staffs involved in Social Security administration, policy making, and information dissemination are being met with another helpful aid from AMAC…a handbook titled "Who's Who in Social Security" that identifies the key players involved in this crucial program. The handbook also provides a generous helping of background information on proposals under consideration, publications available on the subject, and a hierarchy of the governmental officials holding positions and assignments associated with Social Security. The publication is being distributed to these key officials and their staffs, as well as to many media outlets that regularly write about Social Security issues.
"Who's Who in Social Security" is a product of the AMAC Foundation, related specifically to the Foundation's mission of providing education and assistance on issues of critical importance to America's seniors and to promote a better understanding of the issues involved in resolving Social Security's long-term solvency predicament. The handbook was first published in 2015, and will likely be updated again when the 117th Congress commences in January 2021. When initially published, the late Dan Weber, AMAC Foundation President summed up its purpose in this statement, "The material contained in this guide will serve to help point you to the people integral to the creation of any form of solution to Social Security's problems, and will serve to bring you up-to-speed on many of the proposed resolutions currently in play."
Electronic copies of the publication are available for download via the "Resources" page on the Foundation's website (www.AMACFoundation.org) or by contacting the Foundation office at 1-888-750-2622. Note that the document is formatted for a print size of about 3 1/2 by 5 1/2 for ease of handling…hence the smaller font. There's no charge for the download, although contributions to the non-profit AMAC Foundation are encouraged. Contributions from the public enable the  Foundation to continue and expand its services to its senior constituency…learn more about these services by reviewing the Foundation's Annual Reports.