AMAC Foundation Releases 2021 Annual Report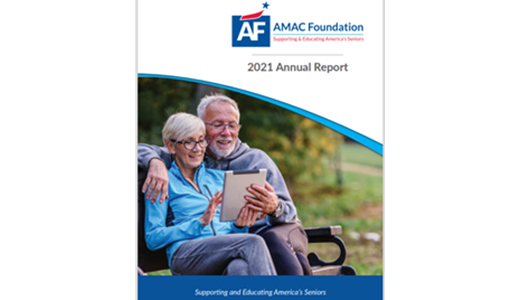 The AMAC Foundation's 2021 Annual Report has received Board approval and is now available for inspection on the Foundation website's Resources page. The report recaps the Foundation's activities for the year, emphasizing the momentum built during its eight years of service to the community and its solid positioning for future growth. In addition to the impact of continued branding efforts and a variety of outreach efforts, the Foundation's reputation as a substantial, responsive asset for America's Seniors is showcased in the detail sections of the report.
Of particular note is the report's outlining of the continued growth of the AMAC Foundation Social Security Advisory Service, punctuated by a major milestone reached during the year—provision of the 20,000th counseling session for a public seeking guidance in the highly complex world of Social Security rules and regulations. Along with that featured item, the continuing operation of the Foundation's key topical websites—Social Security Report and Medicare Report—is underscored, along with the steady growth of its editorial calendar and social media outreach as a conduit of valuable information to an engaged community. The Foundation's contributions to AMAC's media outlets is highlighted, as is the leadership role the Foundation plays in AMAC's Veteran outreach efforts and the revitalized public education programs offered to the public.
"The 2021 Annual Report provides a concise look at who the Foundation is and what we've done, and exhibits our strong and growing commitment to America's Seniors," reports Gerry Hafer, Executive Director. "Further, it demonstrates the bond of optimism and dedication that all of us at the Foundation share toward a mission crucial to America's seniors."