Free Markets – The Only Aspect of Healthcare that Actually Works!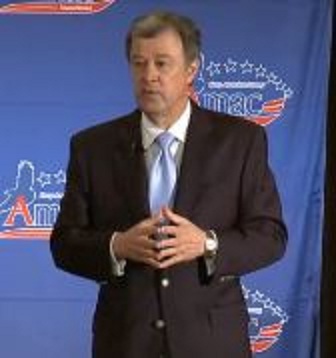 Dr. John Goodman, widely regarded health care author and speaker, addressed the AMAC Foundation's Health Care Symposium last month in Washington and delved into a number of pivotal issues facing the delivery of medical services today in America.
Beginning with a perceptive review of Medicaid and the effects of free-market absence, Dr. Goodman raised the analogy-based question of "Why is the market so kind to my iPhone and so mean to me?" He went on to characterize the marketplace for smartphone supply and service as being driven by the premise that entrepreneurs readily recognize the profit-making potential of meeting consumer demands. Prices and availability are set based on consumer understanding of cost and value, he stressed, unlike the health care marketplace "where no one ever really sees the real price for anything."
In a market where consumers typically only pay 10% of the true cost with their own dollars, Dr. Goodman observes, and where third-party payers cover the remaining 90%, the impact is that non-market barriers to care (e.g. excessive wait time, inconvenient scheduling, and so forth) are raised to unrealistic levels of importance.
To further illustrate the problem, Dr. Goodman used the analogy of grocery store access by food stamp recipients, noting that their level of market access is essentially the same as everyone else. By contrast, he observed, Medicaid recipients do not enjoy the same level of market parity, primarily as a result of the limited number of providers willing to accept Medicaid reimbursement rates. This imbalance, Dr. Goodman observes, is worsened by the Medicaid patient's inability to use non-Medicaid services and pay the difference.
During his discussion, Dr. Goodman recounted the story of Dr. Jeffrey Brenner, a socially-oriented physician who, in Camden, New Jersey instituted an approach to dramatically reducing the cost of treatment for health care "high utilizers." Dr. Brenner's approach (click here to read more about Dr. Brenner's "Camden Coalition of Health Care Providers) merges social services with health care, resulting in reduction in hospital visits by 40 to 50 percent for high-cost patients. The net effect of this approach, Dr. Goodman observed, is tremendous savings in both Medicare and Medicaid, none of which translates to compensation for Dr. Brenner or the Coalition. "We ought to let Brenner become a millionaire," suggests Dr. Goodman, in return for his services.
Directly addressing the Affordable Care Act, Dr. Goodman submits that there are six major problem areas that can't be fixed by making new laws. They are:
"An impossible mandate", under which people are being forced to buy something that has a price that's increasing faster than their income
"A bizarre system of subsidies" that lead to an arbitrary and unfair basis for employer decisions on health care plans for employees
"Perverse incentives for all insurance plans" that skew the provision of services through the advent on narrow provider networks
"Weakly enforced penalties" for uninsured, which will lead to "jumpers and dumpers" (a situation where people are likely to only join plans when they need service)
"A rationing problem" that will result from increased demand without an offsetting increase in supply (doctors)
Impending caps on Medicare, Medicaid, and ACA subsidies that will kick in after 2018, resulting in a continual shift in cost away from government to the private sector
Dr. Goodman closed his address with suggestions to tackle the problems, beginning with elimination of the mandates in favor of individual choice. He also advocated fairness in choice and fairness in obtaining government assistance, as well as enabling Medicaid to compete with private insurance plans. Overall, a pathway to improvement, Dr. Goodman suggested, should include pursuit of "real" insurance along the lines of Medicare Advantage.
The remarks delivered by Dr. Goodman at the 2014 AMAC Foundation Health Care Symposium are available on-demand and in their entirety through the AMAC Network, a service of the Association of Mature American Citizens.  Click here to access this Symposium segment.