It's Myth-busting time again with regard to Social Security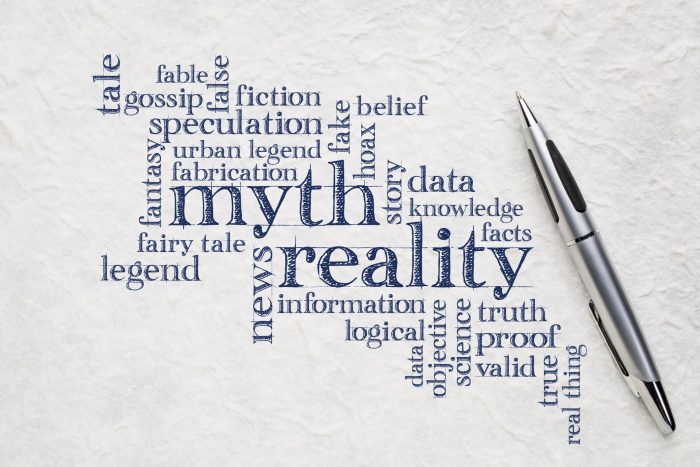 Just because you've heard the same line for years with regard to Social Security does not make it true.  In fact, misinformation can hamper confidence in the program; it can alter the way political leaders try to deal with the program's real long-term financial health; it can also lead people to make ill-advised financial decisions.
Every single one of these seven statements that follows is NOT TRUE.  In this excellent piece, Devin Carroll of MarketWatch lists the seven most common myths and explains why they are just that– fiction.  Myth No. 1: Illegal immigrants collect Social Security; Myth No. 2: The government raided the trust fund; Myth No. 3: Social Security is going bankrupt; Myth No. 4: Members of Congress don't pay into the Social Security system; Myth No. 5: You'll never get back what you put in; Myth No. 6: Social Security benefits are an earned right; Myth No. 7: Everyone should delay filing for Social Security benefits until age 70.  Carroll adequately explains each, and you can read his entire article here.
But, to underscore just two of these further:  the government never stole a cent from the program to pay for anything like wars and such; the accumulated surpluses in Social Security's trust fund will allow full benefits to be paid for another 15 years.  Second, folks really do get back every penny they ever paid in to Social Security while working plus a nominal two percent rate of interest in about 5-6 years.  That's a darn good deal with life expectancy now in the 80s, and of course many people live well into their 90s and record numbers to and past age 100.  This longevity, of course, is also a cause of Social Security's problems, and one which Congress must soon address.
The Association of Mature American Citizens (AMAC) believes Social Security must be preserved and modernized by making modest changes in cost of living adjustments and the retirement age, with no additional taxes on workers.  AMAC advocates for a bipartisan compromise, "The Social Security Guarantee Act," taking selected portions of bills introduced by former Rep. Johnson (R-TX) and current Rep. Larson (D-CT) and merging them with the Association's own well researched ideas.  One component is Social Security PLUS, a new, voluntary plan that would allow all earners to have more income available at retirement.  This component is intended to appeal especially to younger workers.  AMAC is resolute in its mission that Social Security be preserved and modernized and has gotten the attention of lawmakers in DC, meeting with many congressional offices and their staffs over the past several years.  Read AMAC's plan here.
Notice: The link provided above connects readers to the full content of the posted article. The URL (internet address) for this link is valid on the posted date; socialsecurityreport.org cannot guarantee the duration of the link's validity. Also, the opinions expressed in these postings are the viewpoints of the original source and are not explicitly endorsed by AMAC, Inc.; the AMAC Foundation, Inc.; or socialsecurityreport.org.